Friday, 10 September 2010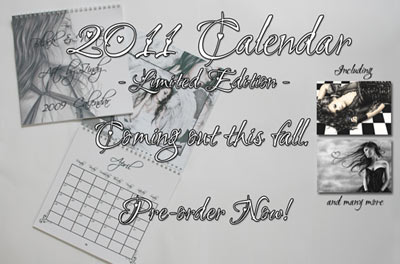 2011 limited edition art calendar Pre-order
I thought I would let you know next years calendar is now in pre-order.
It will feature 12 of my conceptual and fantasy drawings, mainly black and white works - 1 of them is an unreleased drawing, which you'll be the first to see since it won't be released until sometime in November/December.
First 5 to buy the calendar get a free 8x11" print. You can choose between any of the drawings featured in the calendar.
The calendar includes the following drawings:
…and more
The price for the calendar is 19.95$ + Shipping costs 10$ (I know, we have crazy shipping prices here in Denmark :/)
I also accept £ or Euros.
The calendar is expected delivered October 2010.
Pre-order calendar here:
LINK
If you aren't already signed up at my store you can also buy it just by writing me a mail about it.
The design will be similar to my previous calendars, measuring 8x8" (21x21cm), you can see last years calendar here:
LINK
I have my calendars printed with a professional print company here in Denmark. The paper is thick and with a matte finish.
If any questions feel free to ask.
About Me
Zindy S. D. Nielsen

Copenhagen, Denmark, Denmark
My name is Zindy S. D. Nielsen and I'm from Denmark - Europe. I own http://zindy-zone.dk; a site about my drawings, a large art community and much more.
View my complete profile