Friday, 3 December 2010
Hi Everyone, it's been a while since I was able to update. I am in the middle of the move this week and there has been so so much already. Already I am tired of moving but Saturday it will all be over and we can start unpacking and get everything in it's place - I can hardly wait! I hope you are all doing well and enjoying December. I can't believe it will be Christmas so soon.
I managed to finish off a few new drawings; pinups:
Ms. Santa:
Merry Christmas Pinup:
I have a Give-Away at the FB site, you can see how to participate here: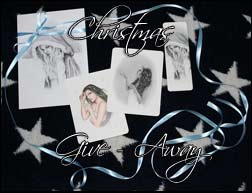 About Me
Zindy S. D. Nielsen

Copenhagen, Denmark, Denmark
My name is Zindy S. D. Nielsen and I'm from Denmark - Europe. I own http://zindy-zone.dk; a site about my drawings, a large art community and much more.
View my complete profile